"Get Well Soon" is episode 24. It first aired on November 10, 2000.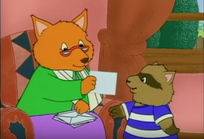 Synopsis
Miss Appleberry fills in for Mrs. Jenkins after she gets hurt and has to stay home for a while. When the class is informed that they will be going to visit her, Fritz decides to give her something special; but Grace is convinced that she won't like it.
Plot
One morning Nora is eating breakfast while observing Norma, her pet lizard. She is excited to be taking him to school so that she can see him there as a new class pet - since he's getting too big for his glass bowl. Mrs. Jenkins came up with the idea, and Nora goes on to comment on how much she cares about her teacher. The same occurs with the Franks as they prepare to leave for school.
While stepping off of the bus, the students see Mrs. Appleberry standing nearby, instead of Mrs. Jenkins. She offers to explain what is going on when they get inside, and there she reveals that she got hurt and fell the other day. She will be fine, but hurt her arm and needs a few days to rest it. She has the plans and knows about what they will be doing, as well as some other things, and mentions that they will pay her a visit the next day.
While everyone is sad for her, they are glad to know the injury wasn't as bad as it could have been. After Timothy expresses the desire to make her something, Miss Appleberry decides that they can all make her a get well card and she sits down to play the piano, as they do before beginning every day.
After, they all sit down to do their card, with Lily getting an idea to make one large card with Doris, Grace, and Lily. Fritz gets up and begins to gather some other small items and asks to borrow Nora's glass bowl after she gets Norman set up. She agrees to it, but asks to get it back when he's finished. As this goes on, Miss Appleberry stops the Frank's from drinking out of the faucet without the use of the cup and reveals that Mrs. Jenkins wrote it down on the papers.
When Recess begins, Fritz uses this time to start gathering his items. Which includes things such as dirt and worms. After he tells them what he is doing, everyone expresses alarm before Grace bluntly tells him that she won't like them. This continues on to lunch, when Fritz collects the various trash or uneaten food items from his friends and puts them into the bowl. Grace continues to nag him, saying that she won't like it.
Soon, In The Spotlight arrives and they sit down to watch the Frank's go over the racing event they saw. They explain how a racing event works, and show everyone their new car toys they got from it. Then with class over, everyone begins to get onto the bus. Miss Appleberry reminds them of their trip the following day and while on the bus, Grace continues to try to get Fritz to reconsider his present.
After getting home, Fritz tells his mom about what happened. But she expresses concern after he mentions that he decided not to make her a card like the others did. He shows his mom his gift idea and right away she agrees that Mrs. Jenkins will love it.
The next day the bus heads over to her place. Everyone is excited but Grace is still convinced over this being a poor idea. After they step off of the bus they greet her and head into her home, where she has everybody sit down. One by one, the students deliver their cards and she compliments them before Fritz shows her his gift last. He explains his desire to do something different and reveals the shaped object, causing Grace to realize why he gathered such weird items; to make a bird feeder.
Mrs. Jenkins loves the gift and thanks him, saying that it is the perfect gift to make her feel better. She gets up and hangs it just outside of her window, so that they can watch the birds eat from it. As the students observe the birds, they start to make a discussion about it.
Quotes
Trivia
Errors
Gallery