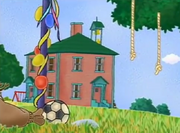 Hilltop School
is the main setting of
Timothy Goes To School.
A two-story building attended by many students.
Not much is known about the school.
Appearance
A pale red brick building with a dark green roof. The door is lined with a small turquoise arch and stairs, matching the window lining and lines on each corner of the building. On the side of the roof is a chimney and a dark green arch were a gold bell hangs.
Staff
Students
Trivia
Hilltop School is the only location to appear in every episode of the series.
It is hinted that Hilltop School has been around for at least twenty-sive or so years, pointed out by Henry in "Just In Time".
Gallery